Flat-faced dogs at increased risk from pet obesity epidemic
On World Obesity Day, animal experts say popular dog breeds such as Pugs and English Bulldogs are at special risk
October 11th, 2019
 Couch-potato lifestyles and harmful junk food diets, scraps and treats are threatening the health of millions of pets. Now, leading pet welfare experts are warning that flat-faced dogs are at increased risk from the effects of piling on the pounds, and are urging owners to take action this World Obesity Day (11 October 2019).
 With research showing almost half of dogs (48%) are overweight or obese*, huge numbers of our four-legged friends are sadly suffering devastating health problems as a result. Heart issues, arthritis, joint problems, diabetes and the daily struggle of carrying too much weight to enjoy life may all be associated with obesity and are issues that are seen every day by vets and vet nurses across the UK.
But of the many types of dogs affected, flat-faced breeds such as Pugs, and English Bulldogs, are at even higher risk of developing potentially fatal health problems from being overweight or obese. The Brachycephalic Working Group (BWG) – made up of leading experts in dog health and welfare, veterinary organisations, charities and breed clubs – is urging all owners to ask for their vet's advice on how to check their pet's weight and body condition on World Obesity Day.
Chair of the BWG, Dr. Dan O'Neill said: "Obesity is one of the most common disorders affecting our dogs, according to Royal Veterinary College VetCompass research. But while obesity can harm any dog, it is of particular concern for flat-faced (brachycephalic) dogs. Many of these dogs already struggle to breathe freely because of their squashed faces, which leads to snoring and noisy breathing. Consequently, excess bodyweight with fat deposits in the neck and chest only worsens these breathing problems in flat-faced dogs.
"To highlight the scale of this problem, VetCompass research has shown that obesity is the single most common disorder in Pugs. Given the unique issues relating to obesity in Pugs, Cambridge University have developed a breed-specific body condition scoring chart for Pugs. The volume of evidence showing that obesity is so common and harmful means that obesity cannot be ignored; it is a real and present danger, especially for flat-faced breeds. BWG has therefore identified preventing and managing obesity as a key priority for improving the welfare of brachycephalic breeds."
The annual PDSA PAW Report cited obesity as one of the most concerning issues facing pets in the UK according to a survey of veterinary professionals by the British Veterinary Association and the British Veterinary Nursing Association. Additionally, a Pet Food Manufacturing Association (PFMA) survey of veterinary professionals highlighted that all vets were concerned about the high frequency of pet obesity and 74% believed that its frequency had increased in the last five years.
Sean Wensley, PDSA Senior Vet and BVA Past President, commenting on the obesity epidemic said: "Pets are usually regarded as family members and owners often express their love by giving food and treats. Coupled with a lack of exercise, this is having a devastating effect on our pets, but flat-faced dogs are in particular danger of developing breathing problems.
"Prevention is always better than cure. But even if pets are already overweight or obese, the good news is that it can be reversed with the right diet and exercise advice from veterinary professionals. Over the years, PDSA has helped transform some of the UK's most overweight pets into fit and healthy animals through its Pet Fit Club competition, and by running weight clinics at its 48 Pet Hospitals around the UK. We would urge owners to speak to their vet or vet nurse to get the help and guidance they need to help their pets lead a healthier and happier life."
Dr. Dan O'Neill concluded: "Owners love their dogs but are often completely oblivious that their dog is overweight or is suffering from obesity. We hope that by raising awareness of this issue, we can help more owners recognise obesity as a serious problem and encourage them to seek veterinary advice."
For more information about keeping pets fit and healthy, including a video guide on how to assess a pet's body shape, visit www.pdsa.org.uk/obesity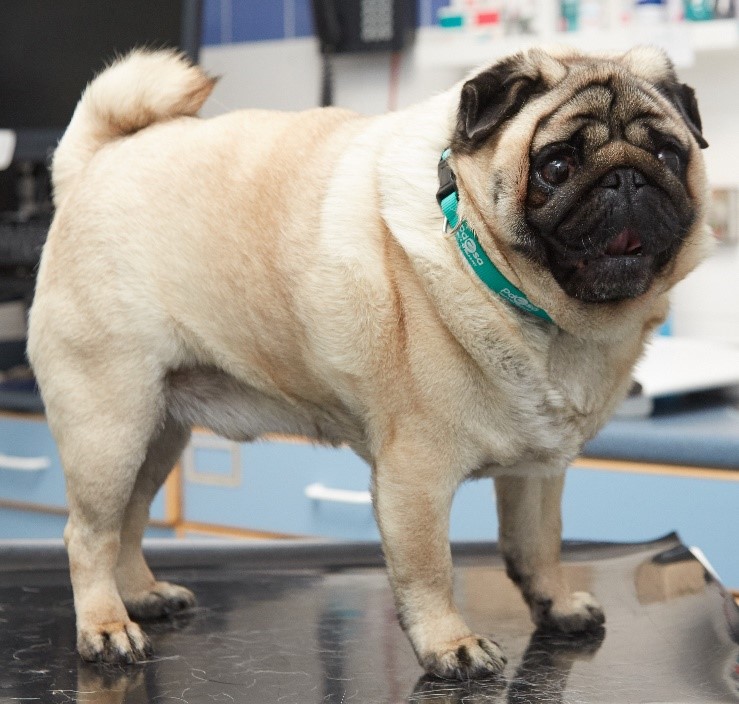 This is an example of some of the activities that are taking place in the UK to highlight the importance of weight management in brachycephalic dogs. Percy the Pug is taking part in PDSA's annual Pet Fit Club competition after his owner became concerned that his excess weight was preventing him from running and playing as he used to. PDSA vets and vet nurses are working with Percy's owner over a 6-month period to help him lose about 3.5kg. This should bring him back to his ideal weight and help Percy to lead a much healthier, happier life. PDSA is a member organisation of BWG, and is one of many groups working to tackle the pet obesity issue in the UK.